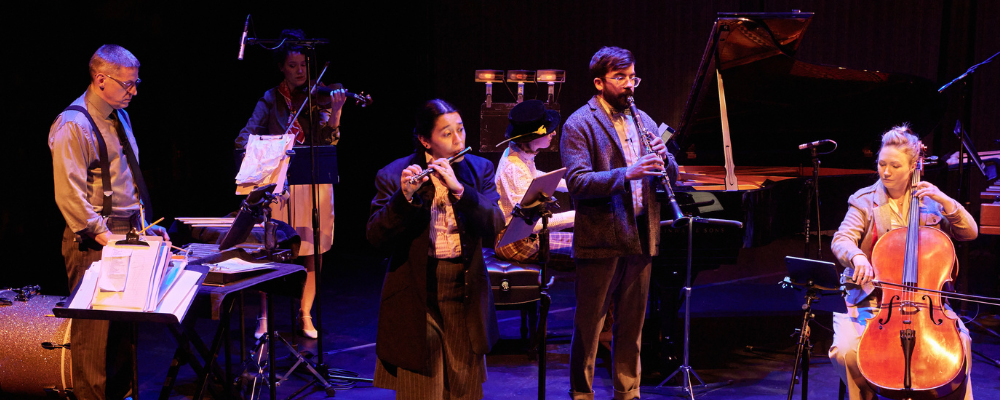 Eighth Blackbird: composition as explanation
By David Lang
Directed by Anne Bogart
Court Theatre is proud to partner with UChicago Presents to present Eighth Blackbird's category-defying production composition as explanation. This production has been hailed as "extraordinary, inventive, and deserving of constant reinvention" by Cultural Voice of North Carolina. A playground of chamber music, theatre, poetry, and performance art, Eighth Blackbird presents a distinctly marvelous happening not to be missed. With music by David Lang and direction by Anne Bogart, the night is based on Gertrude Stein's essay of the same name. By lifting Stein's words off the page, 8BB creates layers of interpretation that reveal the human relationship with art from an entirely unprecedented perspective. One that is thoughtful, clever, humorous, insightful, and joyful.
composition as explanation was co-commissioned for Eighth Blackbird by the Arts Club of Chicago on the occasion of its centennial, and by Duke Performances at Duke University, with additional commissioning support from Richard Replin and Elissa Stein, and from the Modlin Center for the Arts at the University of Richmond. Support for the recording provided by Cedille Records.
---
PLEASE NOTE: If a performance is Sold Out or cannot accommodate the quantity of tickets you would like to purchase, please call our box office at (773) 753-4472 . More options may be available.
We encourage Court Theatre subscribers to log in before selecting seats so that you can access your subscriber discount.